Castellana Lane:
moda y sentimiento

Castellana Lane smells like love, love for beauty and like lavender; like effort and perseverance. Castellana Lane also smells like coffee and family, like smiles and friends, like literature, like the Atlantic … Because Castellana Lane is fashion but it is also feeling.
The Castellana Lane project was created in La Palma, a quiet island of the Canary Islands. A place where calm and peace flood the lives of those who live in it and those who arrive here. «Here every minute is savoured, where loneliness is more deeply savoured, and you enjoy life more». These are the words of Ana Cortés, the brand owner and founder, who discovered her gifts among the Island peace and silences.
Castellana Lane´s starting point was a result of a coincidence: the elaboration of an ecological bag for its market customers that has been made of recycled coffee bag and decorated with flowers. Since then, Ana Cortés, unwittingly, has been given life to Castellana Lane. This project, full of enthusiasm, has been brewing little by little, without haste, perhaps deeply influenced by the Island serenity, as if it were a new life. Ana Cortés has made each step forward, slowly but surely, enjoying this trip, learning, discovering and mixing her precious talents with her passion for fashion and decoration.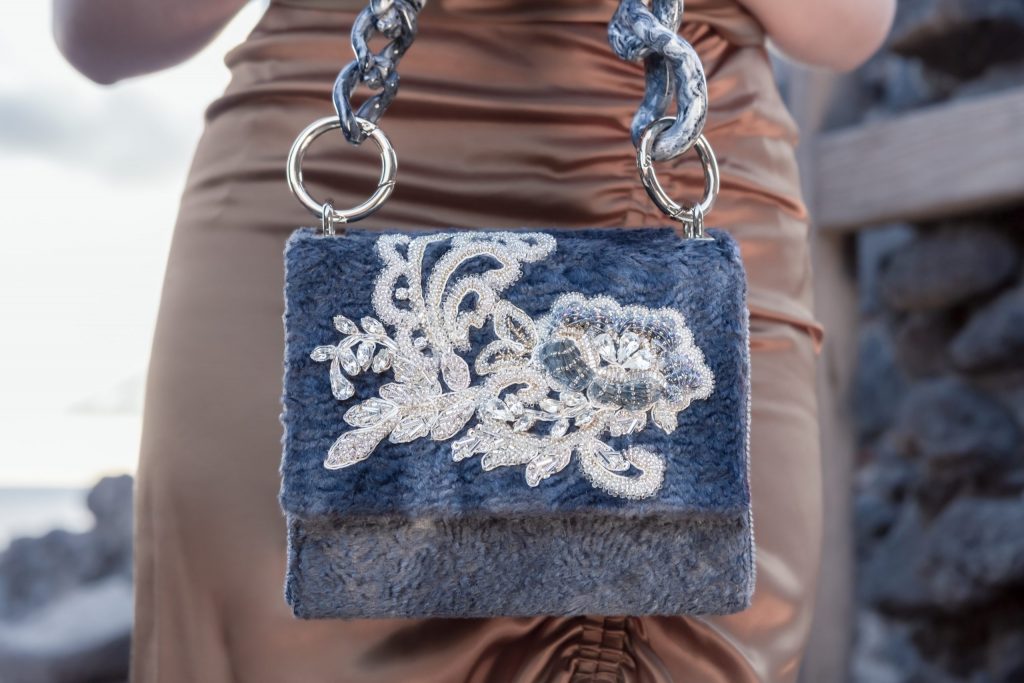 In this way, since these last four years, Castellana Lane has brought together the creation of handbags, purses and other accessories with a common hallmark: the coffee bag and the decoration with delicate flowers, all seasoned with much love. Amateur, and knowing that knowledge is one of the bases of her work, Ana Cortés has been able to develop unique pieces, improving each structure, in a continuous learning process that helps «grow as a person in each elaboration.» It is totally a handmade work, where her hands and her heart are the protagonists. Its structures are elaborated by hand, with great meticulousness, also with great care and great doses of perfection. Then, in the decoration of her creations comes the magic and the beauty made tenderness, elegance and delicacy. Its handcrafted flowers, or its exquisite calligraphy reminiscent of the Golden Age, crown a very special product. A product that reflects a feeling and the inspiration of nature that surrounds it on a tiny island in the Atlantic. In this way, his creations show the contrasts, the colours, a land´s generosity in eternal spring, valuing every detail and showing a respect towards the environment, an exaltation to the natural and to life.
Castellana Lane owes its name to the road where it was created. Surrounded by an unusual beauty, this trade brand has followed a process that, unlike the usual, is a reencounter with the artisan, creating fashion, but doing art with their hands, where each piece is unique, each fabric has been selected for each occasion and sometimes dyed, looking for the colour range that most resembles nature and each stitch seeks to unite exquisiteness and heart. Because, according to its creator: «When you work with your hands, you work with your heart».

After a lot of work, effort and dedication, the Castellana Lane team has decided that it is about time to take a new step, to open a small window to the world. Moreover, they have launched their own website: www.castellanalane.com , in order to publicise their creations and share their work philosophy everywhere. From this new platform, their clients can get access to those handbags and wallets that are shown to make all these products personalise to them. It is an appointment with fashion, from the Atlantic´s heart.

Castellana Lane´s creations make its clients fall in love with them, these being the perfect complement for all the looks and all the situations. Each Castellana Lane creation has a name, a story, going through from the classics of literature to the closest and humblest stories of family, friends and even pets … but all of them surrounded by love.

The story of a Castellana Lane does not end with its acquisition. These are everlasting travel companions, witnesses of unforgettable moments, of dreams and illusions. There is only one difference: From now, the unique person in charge of keeping on writing of this story … it is You!!!