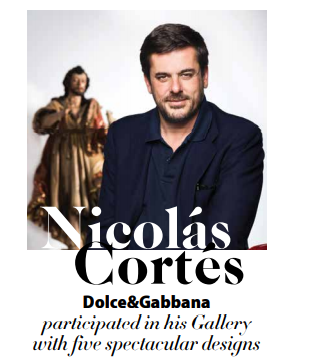 Nicolás Cortés Gallery, in collaboration with Dolce&Gabbana Alta Moda and Alta Sartoria, organized an exhibition at its Madrid headquarters (Calle Justiniano, 3), on January 26th to February 25th, 2021. The exhibition offered a path that encourages a reflection on the evolution of the portrait and fashion from the 15 to the 20 century. The portraiture from the late Middle Ages is presented by the extraordinary panel by the Master of A.E, which shows the donors' faces. The austere nature of the Spanish Baroque is clearly reflected in the portraits by Maíno and Van der Hamen, while the meticulous brushstroke characteristic of Flemish art is to be seen in works by Schut and Van Oost the Elder.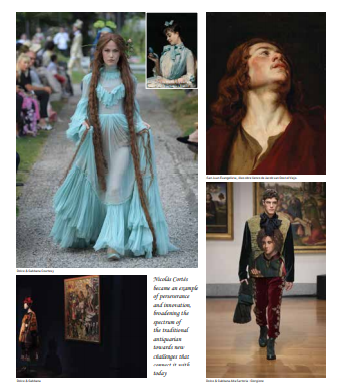 Further on in time, the modern gaze of the 19 th and 20 th centuries makes itself visible through the sitters portrayed by Fortuny, Raimundo de Madrazo, Eugenio Lucas, Zuloaga and Romero de Torres, the latter represented by six of his celebrated depictions of Spanish women.Special mention should be made of the invaluable contribution to the exhibition by the Dolce&Gabbana Alta Moda and Alta Sartoria atelier in Milan, who has collaborated with five spectacular designs. With these, a dialogue between fashion and painting has been established, which leads us to reflect on the evolution of traditional clothing throughout history, until it reaches its current reinterpretation by the most relevant brands. Concurrently, the gallery has designed a 3D tour that will allow users to enjoy an immersive virtual experience. In it, you can visit the artworks in the physical exhibition along with other portraits from his inventory that has not been able to be brought to Madrid due to current limitations. In short, with this exhibition, Nicolás Cortés became an example of perseverance and innovation,
broadening the spectrum of the traditional antiquarian towards new challenges that connect it with today; as it is the direct relationship with an internationally renowned haute couture brand, as well as the adaptation of its procedures to the digital world.